How to set up Google Analytics for your Mozello website or online store
Do you want to know how many people visit your page? What sections they check out? How much time do they spend on your website? How they find your page? What countries they come from? If you've said 'Yes!' to these, it means it's time to add a statistical tool to your website, or online store!
Google Analytics is the most popular analytics tool in the world. Everyone uses it, from the world's most biggest marketing agencies, to small businesses. And you should use it too.
Why? Google Analytics makes it possible for you to:
understand what results your page produces;
find out who visits your page;
understand how people use your page;
discover what works and what doesn't;
get lots of other data.
All this will help you improve your website's marketing strategy and achieve the goals of your business.
Best of all, Google Analytics is free. All you need to do is create an account and link it to the website. In this guide we'll tell you step-by-step what exactly you need to do to connect your Mozello built website or online store to Google Analytics and offer you a few insights into what you can do there.
How to set up Google Analytics and add it to your website
Create a Google Analytics account
Creating an account will take no more than a few minutes:
Go to Google Analytics website/ and click on Get started today,
Fill in your details,
Account Name section — just enter your name or company name, e.g. Viktorija's Google Analytics,
Property Name section — this refers to the property you want to track. In this case, it's your website. You can call it '[Company name] website',
Company Name section — just answer the questions. You can skip this part if you wish.
Click Finish and you're done!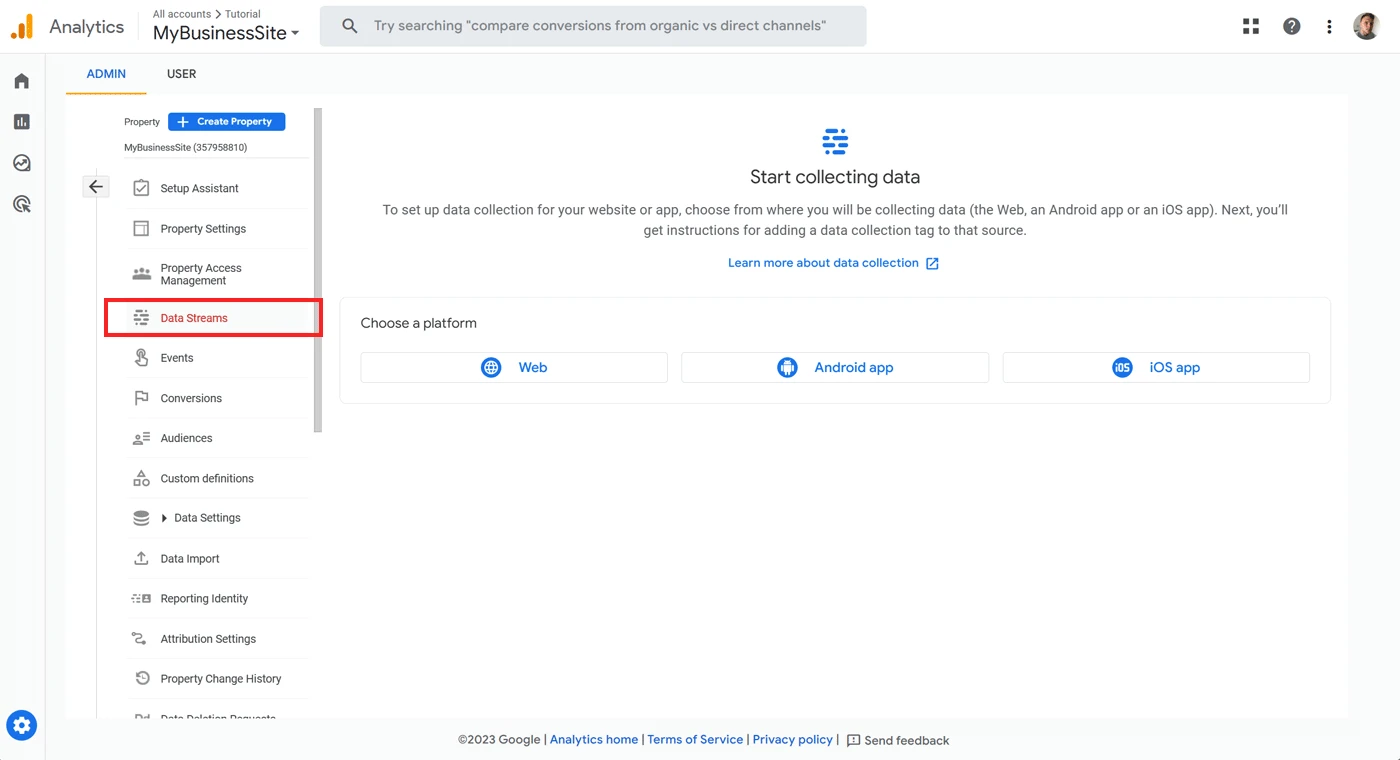 Well done! You are now the owner of a Google Analytics account. The next step is to connect it to your Mozello website.
Connect your Google Analytics account to the Mozello website
Go to Google Analytics and open the Data Streams menu. Under Choose a Platform, click Web.
Enter the domain address and name of your website, and then click Create Stream. You're halfway there!
This page will then open where you will see a unique identification code, Measurement ID:


Copy it, go to your Mozello Settings > General settings page and paste this code into the Google Analytics Tracking ID field:


Press the Save Changes button and you're done, it's that simple! You have opened the door to a new world of interesting data about your website.
Check to see if Analytics is working
Open the Realtime section in the top left corner:


Log out of your Mozello website admin account and visit your website as a normal user. Or do an even simpler thing: open your website from another device, like your phone. If everything works as it should, you will see that the page has at least 1 guest.
But, while in most cases Google Analytics starts working within minutes, it can take up to 48 hours for some. If it takes a while, be patient, check again that you've done everything right, and if so, feel free to contact the Mozello support team.
6 ways Google Analytics can help your business grow
Google Analytics can appear confusing at first. There are hundreds of different options: a sidebar with countless choices, lots of different data, confusing terms. Understanding where to start and what to do is difficult. There's no denying it: Google Analytics is a tool of many features. However, it is the simplest functions that are the most useful and require little effort to learn. Even less effort than that, actually. So let's take the bull by the horns.
1. How to find out how many people visit your page
You can find the Google Analytics home page by clicking on the Home icon in the top left corner. The home page gives you an overview of some of the most important things you need to know about your website. The key thing is how many people visit your website.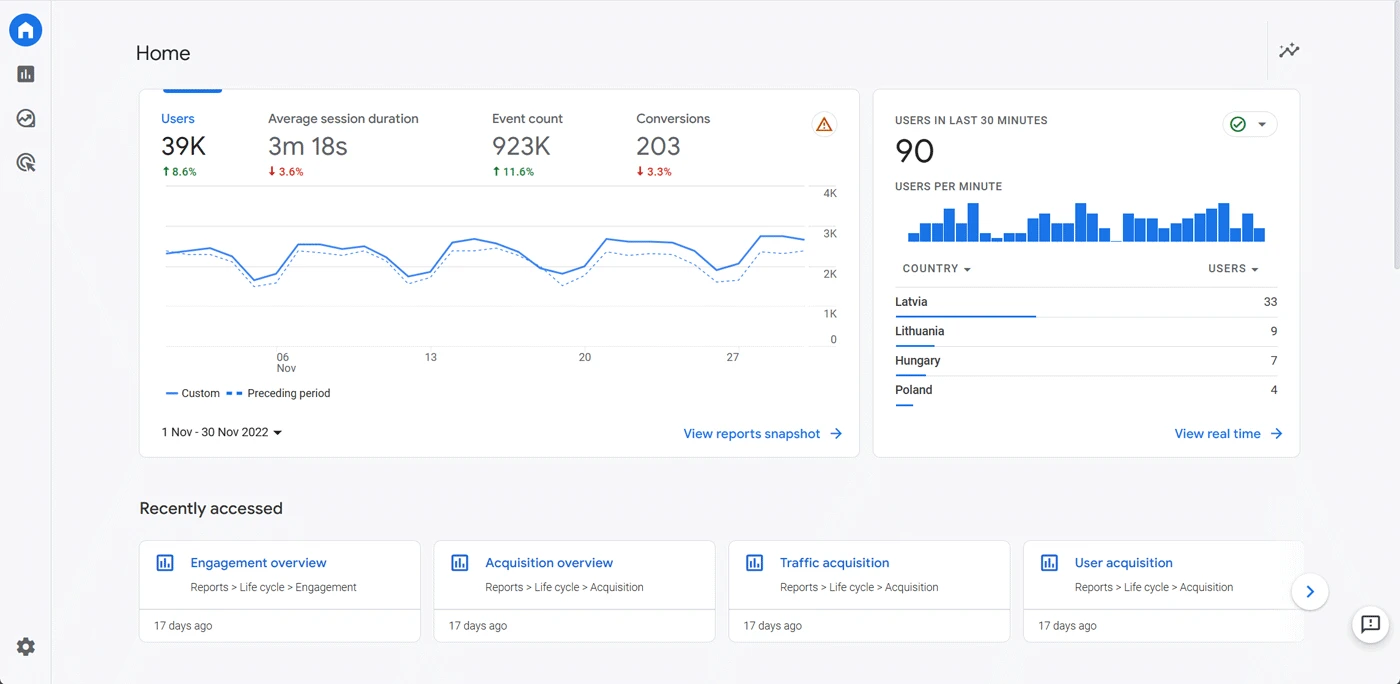 The top chart shows the number of guests, how many of them are new users, and the time they spent on your page. By default, these data are shown for one week, but you can change this to a different period in the bottom left corner (where it says ast 7 days).
Guest numbers are the lifeblood of any website. If you don't get visitors, you obviously won't have any customers or sales. So it's worth taking a look every now and then at how many guests your page is attracting and thinking about how to improve this number.
How can it help your business?
Knowing your visitor statistics can help in a few ways. You can:
see the days that bring the most traffic to your website, so that you can plan promotions on those days,
react to sudden drops in guest numbers. Maybe something's gone wrong, and you can fix it quickly,
understand if your attempts to attract more traffic are working.
2. Where are your guests located and what devices they use?
Next, we'll find out what kinds of people mainly visit your website. In the left menu, open Demographics and Overview (globe icon).

Here you'll find all sorts of information about your users, like what country and city they're from, their gender, age, and the language they speak (or the language they set up in their device). This section will tell you if the people you want to attract are actually coming to your website.
Important! Demographics data on gender, age, etc. do not include statistics for users whose data Google Analytics was unable to collect. This may be the case if the user has not logged into their Google Account, has not specified their gender or age, or has blocked tracking and provision of personal data, so these statistics should be treated as an approximate summary.
You can also see the Tech section. It shows what devices and browsers people use to access your website. If you're not too familiar with everything, you can focus on the device category, i.e. what devices (computer, phone, tablet) are most commonly used to view your page. If you see that phones are used the most, you'll know that you need to optimise the mobile version of the page to make it look good. The good news is that when you create a website with Mozello, it will be mobile-friendly automatically.

How can it help your company?
Knowing who visits your website lets you:
see what user groups are most interested in the products and services you offer, and target them in your ad campaigns,
understand whether you are reaching the right target audience,
find out what languages your guests are using to communicate, so that you can possibly consider translating your website to give them a better user experience.
3. How can I understand where my website's guests are coming from?
Google Analytics lets you know how people have found your page. This information can be found in the Acquisition section, under Overview. The most important table right now will be New users by First user medium. You can change it to New users by First user source/medium.

Now you can see where your guests are coming from: by entering an address in their browser, clicking a link in a post on social media, searching for something on Google, or coming from another page.
referral means they came from another page that linked to your page
(none) means that the guest came directly to your domain (or if tracking is blocked)
organic means the guest found you in a search engine looking for a particular keyword, and clicked on the search result
This information is important because it allows you to understand what channels work best in the context of your business. You won't have to guess if the effort you put into maintaining your social media accounts is paying off: just look at how many people they bring to your website.
How can it help your business?
Knowing where your visitors are coming from is extremely valuable, because:
You'll find out what channels work best attracting visitors: these will be worth investing more time and effort in.
And the opposite is true, too, if you see that a channel is not meeting your expectations, you can either change your strategy or simply not focus on it.
This is an opportunity to clearly see how well your social media, e-mail campaigns, and other activities are working.
4. How to find out what people do on your website?
Now let's go to Engagement and Overview.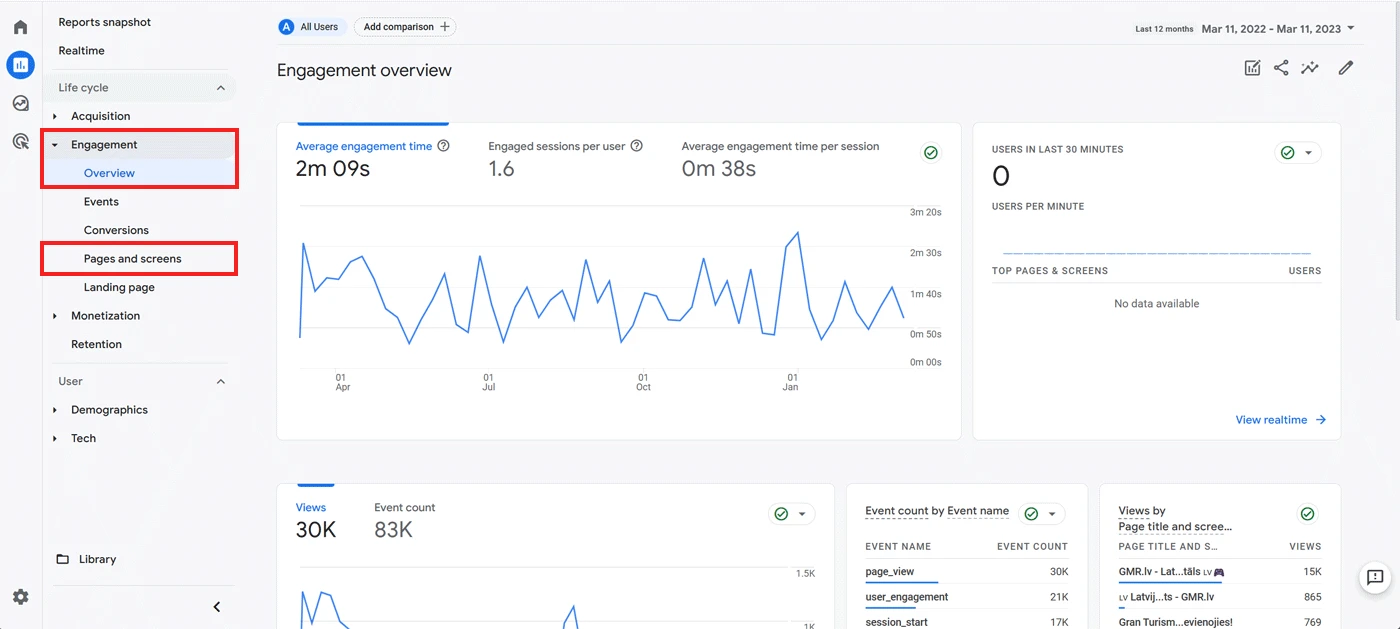 Engagement Overview shows you exactly which sections of your website people are visiting and what they do there. It's also worth checking the Page title and screen class section here to see in detail how many visits each part of your website receives and how much time people spend in it. This can help you understand what is happening on your website and respond to that accordingly.
For example, you might see that many people read a particular article on one page and then immediately close the page. Solution: try putting a call to action in the middle of the article.
Examples of calls to action:
Did you know that you can use Mozello to set up your company's website or online store yourself? Try it now!'
'Get in touch with us to find out more!' (Including a link to the contacts section)
This way, your guests are directed towards or informed about your product without stopping what they are doing now (in this case, reading the article).
How can it help your business?
Information about what people do on your website helps you:
find out what sections, products, and articles are visited most often;
understand how much time guests spend on the entire website or in a specific section. If engagement rates are very low, something is wrong and optimisation might be necessary;
see what pages need more work.
5. You can view historical data for your website
Google Analytics will continue to collect data for as long as your website is live. This means that a huge amount of data will be stored and you will be able to see how your page is doing on a weekly, monthly, and even yearly basis.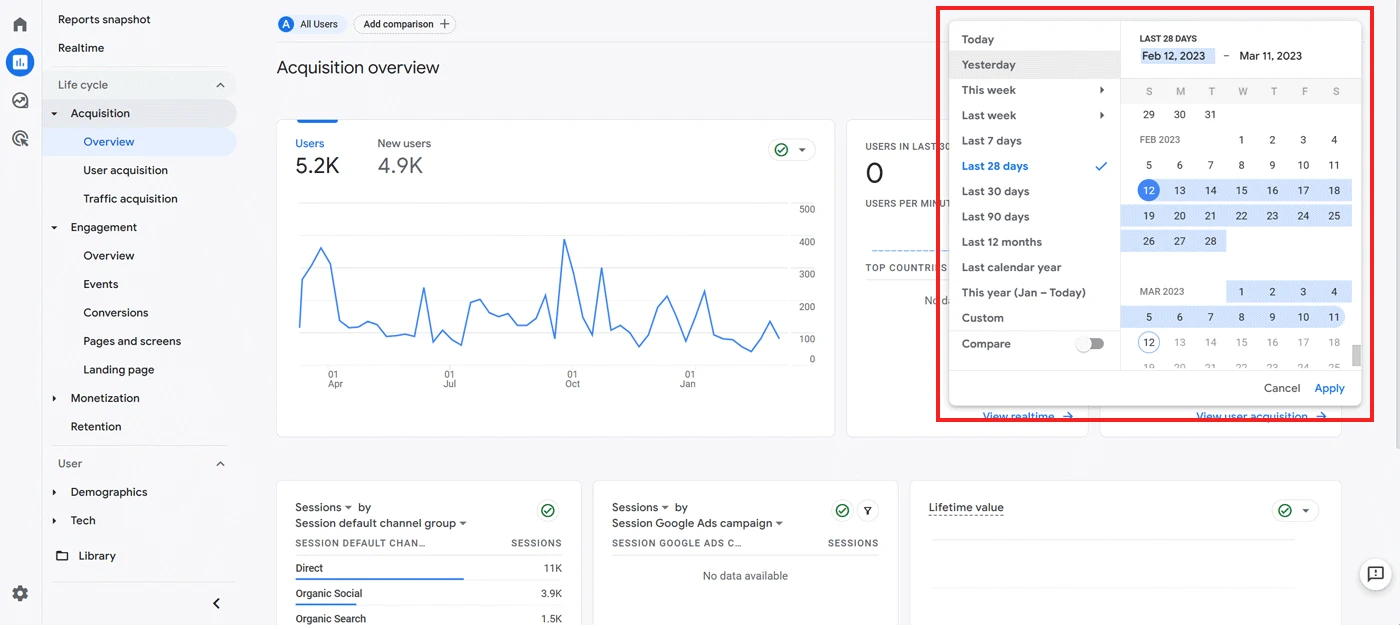 This will be particularly useful for long-term campaigns, such as making SEO content. It is also important for general and specialised analyses of your overall performance.
How can it help your business?
By looking at historical figures, you can:
assess what strategies and activities have been successful in the long term and which have failed,
get a complete overview of how your website performs compared to other periods,
take pride in what you have achieved: seeing how much you've already done offers great motivation to keep going!
6. Let Google help you with Insights and answers
Most Google Analytics pages have an icon at the top right corner that looks like a line with a few stars. This is the Insights function.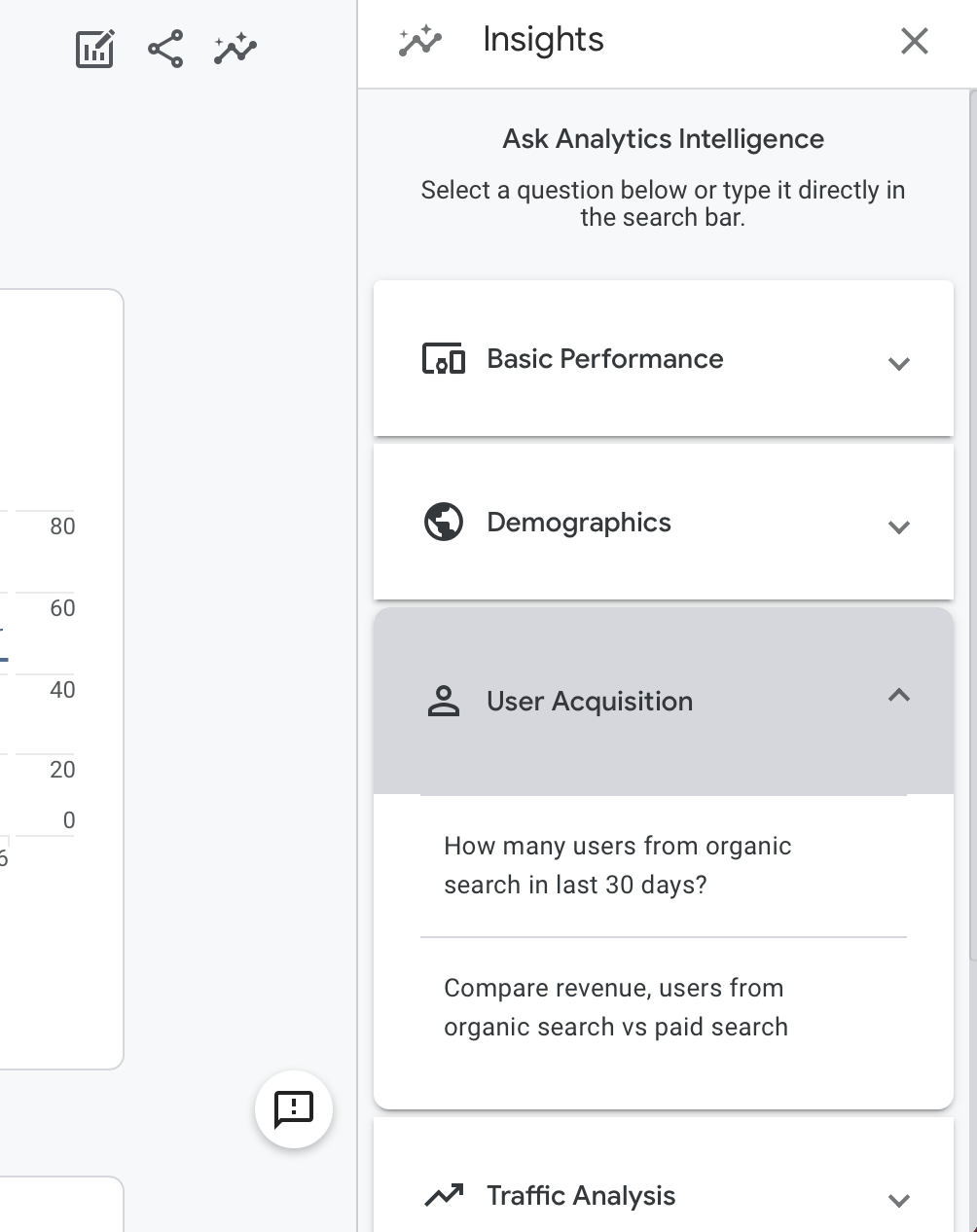 Insights is a feature that can help you ask the right questions about your page metrics, particularly useful for less experienced Google Analytics users. There you'll find a list of essential questions that you can simply click on and get an answer to, without having to go far into the depths of Google Analytics.
You can also simply ask a question using the search bar. For example, in the search bar, type 'How many users from organic search in last 30 days?' and Google Analytics will give you the answer. The only thing is that these questions must be in English.
How can it help your business?
With Insights, you can:
use Google Analytics features quickly and efficiently, without spending a lot of time learning to use the platform,
set custom settings, so that you can always quickly access the data that interest you most.
Conclusion
Google Analytics can provide a broad variety of valuable information about how your website is doing. And you can use this information to make informed decisions about how to improve your marketing strategy, or your website.
Businesses that don't use Google Analytics are essentially doing things randomly: they are advertising without even knowing if their ad is working. They try to attract visitors without knowing where they are coming from. They make changes to the website without knowing what should be changed.
Use data to grow your business. Now you have access to Google Analytics, you can make better decisions based on data and measure the impact and results of your actions. All this will help your business grow faster, and more successfully.
If you have any questions or need help, feel free to reach out to Mozello Customer Service.